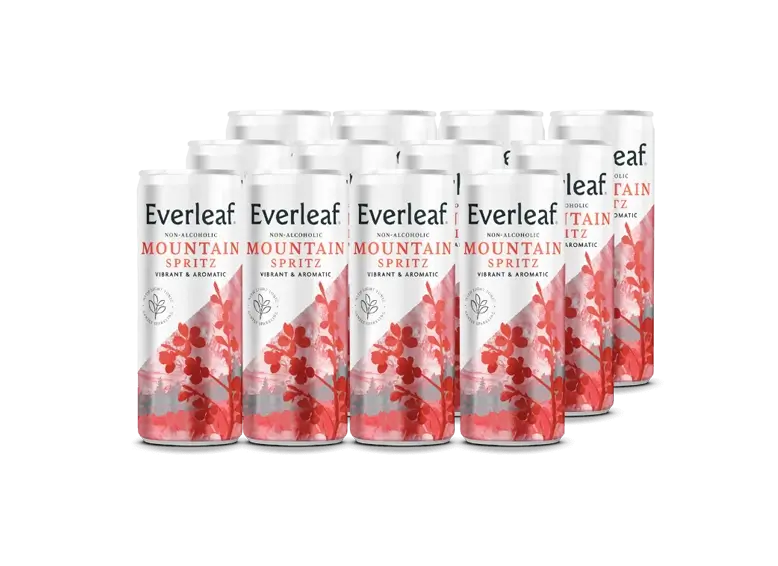 Everleaf Mountain Spritz
Vibrant and Aromatic
A delicious blend of Everleaf Mountain non-alcoholic aperitif mixed with light-tonic. This aromatic Mountain Spritz is ready to sip chilled, or poured over ice with fresh strawberry slices.
Close your eyes and climb through the cool mountain heights with this blend of sustainably-sourced botanicals, from elegant cherry blossom, bittersweet rosehip & strawberry.
INGREDIENTS & NUTRITIONAL FACTS
Free UK shipping
Non-alcoholic
The world's most complex non-alcoholic aperitifs
Sustainably Sourced
The finest botanicals, sourced from the natural world
Low Calorie
An Everleaf & light tonic contains less than 50kcal per 200ml serve
Aroma
A big hit of cherry blossom with hints of black cherry, strawberry and aromatic Everlasting
Taste
Sweet floral cherry aromatics give way to more bold, tart rosehip and savoury myrtle
Finish
Moreish bitterness that plays on and on with the sweet aromatics on your tongue
Only natural, sustainably sourced ingredients
Cherry Blossom
(The Expensive One)
Japanese cherry blossom (sakura) extract, is at the heart of Mountain. It lends its delicate aroma, rich, but light palate and elegant length to make Mountain truly unique.
Rosehip
(The Bitter One)
Tart and bittersweet. These berries have a long history of use in tonics and teas, giving Mountain a complex sharpness.
Strawberry
(The Comforting One)
Just a hint of strawberry adds a deliciously familiar sweetness to the mid-palate, like finding a wild alpine strawberry in a Mountain pasture.
Juniper
(The Familiar One)
Usually found in gin, here it takes a back seat, adding just a hint of piney freshness and crisp mountain air as you climb ever higher.
Myrtle
(The Spicy One)
Fragrant, spicy, savoury and sweet, Myrtle's attractive complexity is often found emanating from a Mediterranean kitchen.
Everlasting
(The Unusual One)
These beautiful yellow flowers have a colour that never fades, while the leaves have a beguiling aroma that adds a touch of exotic intrigue to Mountain.
INGREDIENTS & NUTRITIONAL FACTS
Nutritional info (per 100ml)
Fat, saturates & salt
Contains a negligible amount of fat, saturates, protein & salt.
Facts
Everleaf is gluten free and suitable for vegans.
Ingredients
Water, sugar, acacia gum, natural botanical distillates & extracts, salt.
Preservatives: NA
Acids: citric acid, malic acid, trisodium citrate.
Extracts and distillates
Everleaf MOUNTAIN contains extracts and distillates of the following ingredients: Cherry blossom, Orris root, Juniper, Rosehip, Strawberry, Myrtle, Everlasting, Coriander, Cherry, Wormwood (A. absinthium), Roman wormwood (A. pontica), Black carrot, (plus non-extract ingredients as listed).