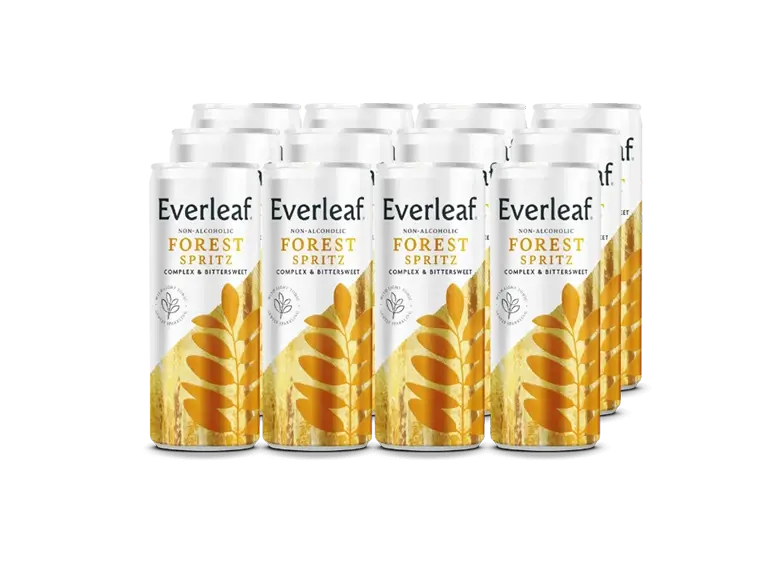 Everleaf Forest spritz
Complex & bittersweet
A delicious blend of Everleaf Forest non-alcoholic aperitif mixed with light-tonic. This complex Forest Spritz is ready to sip chilled, or poured over ice with a fresh orange slice.
Lie back and imagine the filtered sunlight of forest canopies captured in this blend of sustainably-sourced botanicals, from exotic saffron & vanilla to honeyed orange blossom.
INGREDIENTS & NUTRITIONAL FACTS
Free UK shipping
Non-alcoholic
The world's most complex non-alcoholic aperitifs
Sustainably Sourced
The finest botanicals, sourced from the natural world
Low Calorie
An Everleaf & light tonic contains less than 50kcal per 200ml serve
Aroma
Heady vetiver and orange blossom with notes of earthy orris root and warm vanilla
Taste
Bold and vibrant with layers of citrus, bark, spices, bittersweet roots and savoury saffron
Finish
Long and complex, with Everleaf's signature mouthfeel holding on to the myriad of flavours lengthened with moreish bitter gentian root
Only natural, sustainably sourced ingredients
Saffron
The Expensive One
This "red gold" gives Forest its rich sunset glow, unique aroma and a savoury bitterness to the finish.
Orange blossom
The Sweet One
Responsible for that heady, honeyed citrus aroma that reminds us of long summer sun, orange helps to add sweetness.
Vetiver
The Unusual One
Adding a dash of intrigue, this citrusy, earthy grass has a long history of use in perfumery. It's found in some of the world's most famous luxury scents.
Vanilla
The Familiar One
The richness and reassuring body of the mid-palate is thanks to our sustainably and ethically sourced Madagascan vanilla.
Cassia bark
The Spicy One
We use two different types of Cinnamon to add a touch of spice that perfectly complements the vanilla. Traditional techniques allow for the sustainable harvesting of the tree bark each year.
Gentian
The Bitter One
Providing a long, earthy, bitter finish, this is the lush, damp, woodland floor above which the other flavours dance.
INGREDIENTS & NUTRITIONAL FACTS
Nutritional info (per 100ml)
Fat, saturates & salt
Contains a negligible amount of fat, saturates, protein & salt.
Facts
Everleaf is gluten free and suitable for vegans.
Ingredients
Water, sugar, acacia gum, natural botanical distillates & extracts
Preservatives: NA
Acids: citric acid, malic acid, trisodium citrate.
Extracts and distillates
Everleaf FOREST contains extracts and distillates of the following ingredients: Vanilla, Orange blossom, Saffron, Gentian, Pink peppercorn, Fennel, Vetiver, Orris root, Cassia bark, Cinnamon, Angelica root, Liquorice, Coriander seed, Chamomile, (plus non-extract ingredients as listed).